News & Events
News & Events
Did you receive a donation request from us? Please click here …
Call 505-600-3068 (24/7), send us a message or contact us on GRMS Channel 20 if you require assistance or if you want to get in touch with us. If this is an emergency, you must dial 9-1-1
All Hands On Deck
Sunday, February 5 2023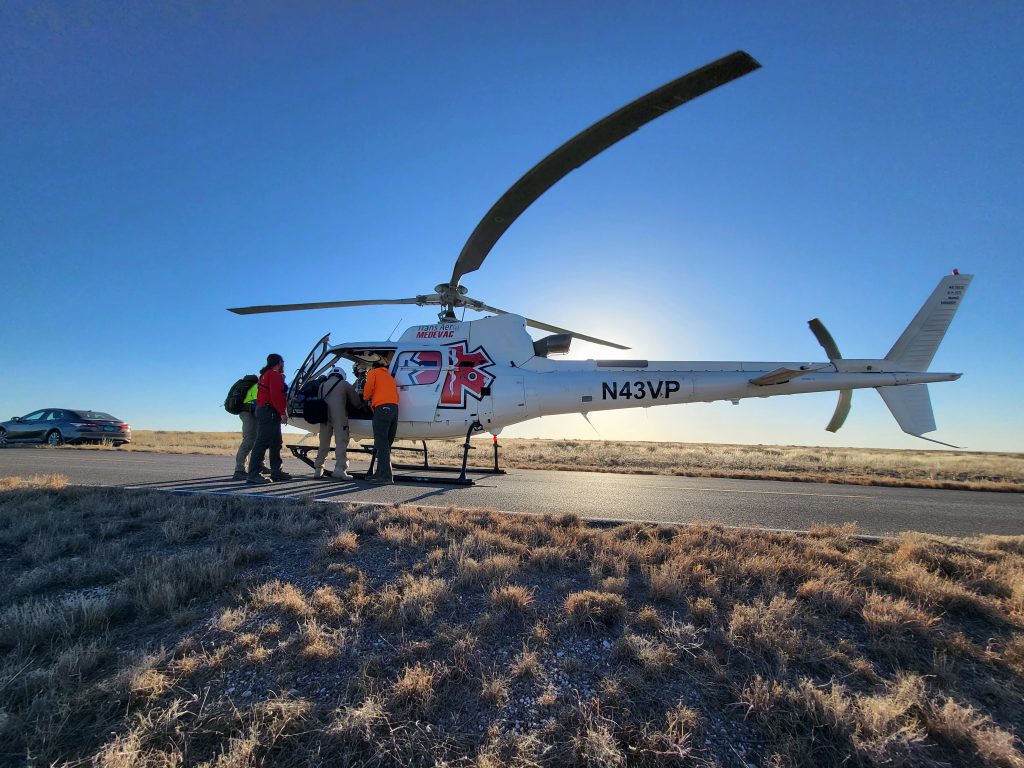 A great multi-agency training mission. We searched and located "Andy", provided first aid and evacuated the unconscious "subject" thanks to the help of Trans Aero Medevac. Teams from Alamogordo and Ruidoso supported us on the search. Our drone finally located the victim in a deep crevasse. First aid was administered and the subject was carefully hauled out to the surface. A helicopter medical crew took over and "Andy" was transported out of the wilderness. We gratefully acknowledge the help of the Roswell Disaster Relief Service and the New Mexico Department of Energy, Minerals and Natural Resources (Superintendent McGary). Press Release | Media Library
We have our very own frequency
Monday, January 25 2023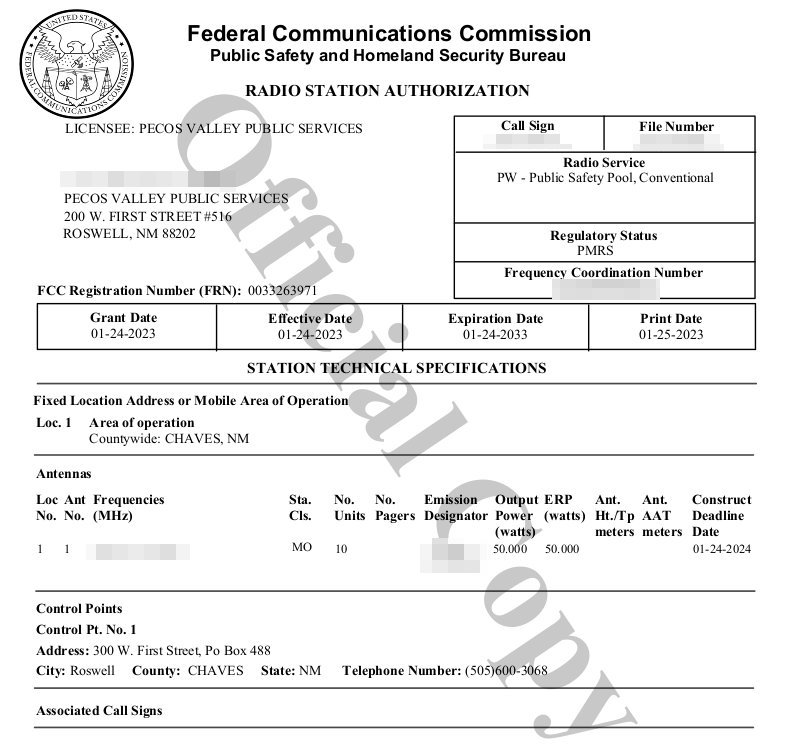 All public organizations have a frequency to be used in radio communications. Police, Fire, every agency has a designated radio channel. And now we have one too. The FCC granted us an FM frequency in the public safety spectrum and we can use it whenever we conduct trainings or on missions. How cool is that? Next up: Programming the radios. Thankfully, we do have a HAM on our team who understands those things. Roger. Beep. Over.
---
We are feeling yesterday's training
Monday, January 23 2023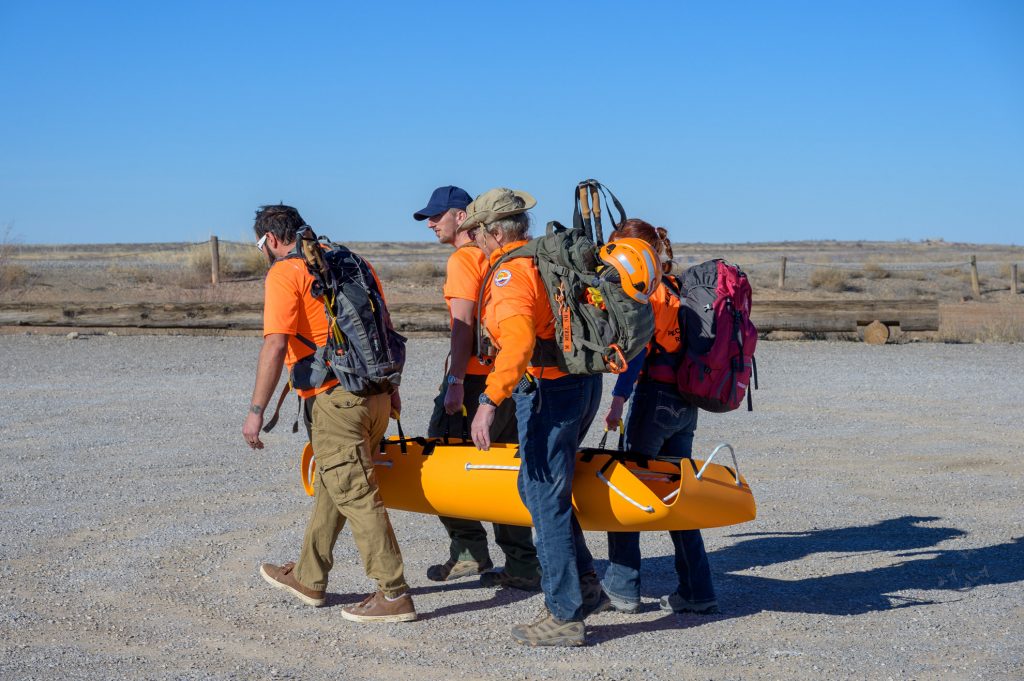 The mission for our first training in the new year: Get a 150lbs subject to a waiting "ambulance" – about a mile away on top of a hill. And today, I feel that mission in every muscle of my body. But that's what training is all about. To gain experience and confidence. We dropped the stretcher at the bottom of the hill and created a 5:1 mechanical advantage to get it up to the waiting "ambulance". Mission accomplished.
---
Alien SAR
Thursday, January 12 2023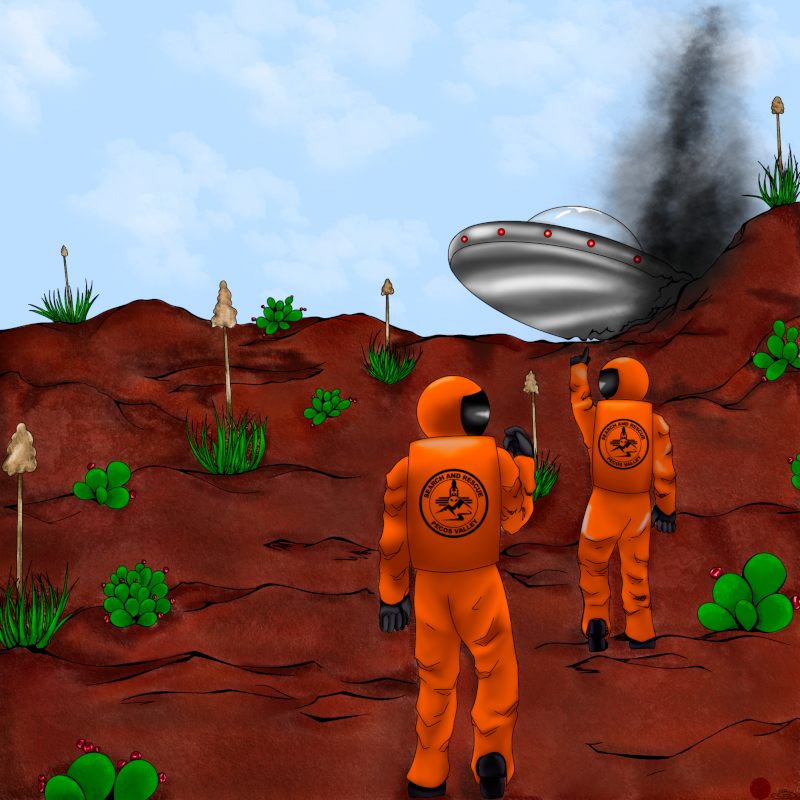 Did you know? We are the only Search & Rescue outfit on the planet that has been certified by the LEAGUE OF GALACTIC EMPIRES for SAR operations. No kidding. Check us out at www.aliensar.com
This image is (of course) based on a real event. We couldn't use cell phone cameras because of .. em .. regulations. And it's secret. The usual. You DO know, that we are located in Roswell, NM? Want to get great drawings as well? Contact Chani on Facebook.
---
Baby It's Cold Outside
Sunday, January 8 2023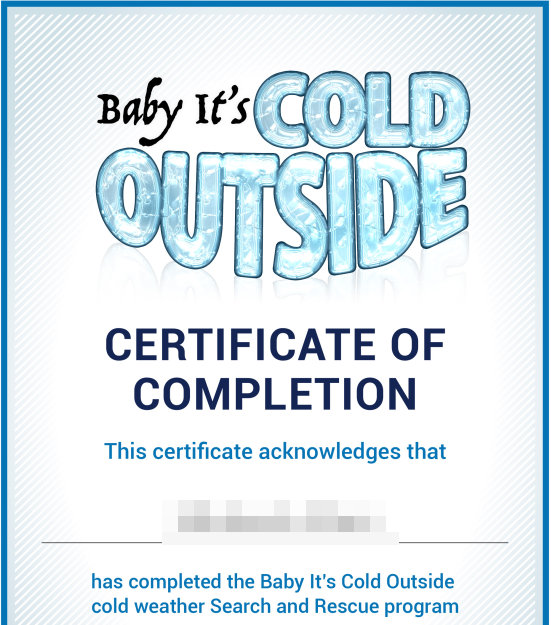 Though we usually don't have freezing temperatures like our Canadian friends up north, we can and should benefit from their experiences.
They have an excellent free online course about the rescue and handling of hypothermic subjects and about cold stressed situations in general. Everything we need to know if we have to do Search & Rescue in cold temperatures. Great videos, great knowledge and you even get a certificate.
---
Happy New Year
Wednesday, January 4 2023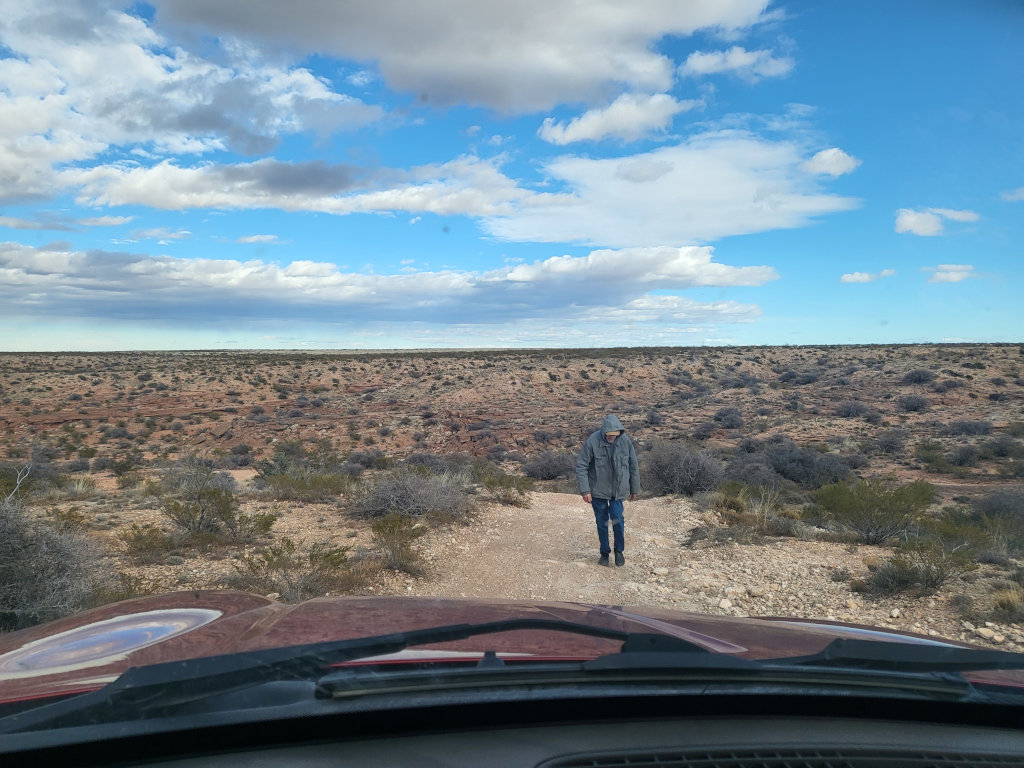 We hope you had a great 'slide' into the New Year. We went out on a scouting mission and visited the "Haystack Mountain OHV" in the north-east area of out county. Beautiful rugged terrain for off-roading, climbing or hiking. We wanted to fly our drone to get a few nice videos, but it was too windy to fly our little SAR drone. We'll have a better drone soon. Want to help? Click "Donate" on the top of the page.
---
A Night In The Cold
Friday, December 23 2022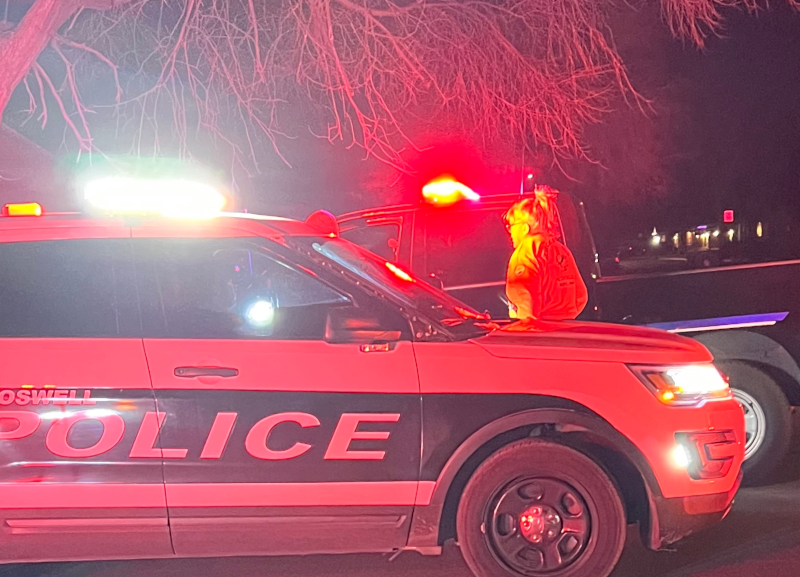 We partnered up with the Roswell Community Disaster Relief Services and were tasked to monitor parks and undeveloped areas in our town for folks in distress due to the cold. At around 1:30am we were called to a structure fire that left a family of 5 with nothing. But the cooperation with RCDRS worked well and we were able to put the family into a hotel.
---
Emergency Calls via Satellite
Friday, December 16 2022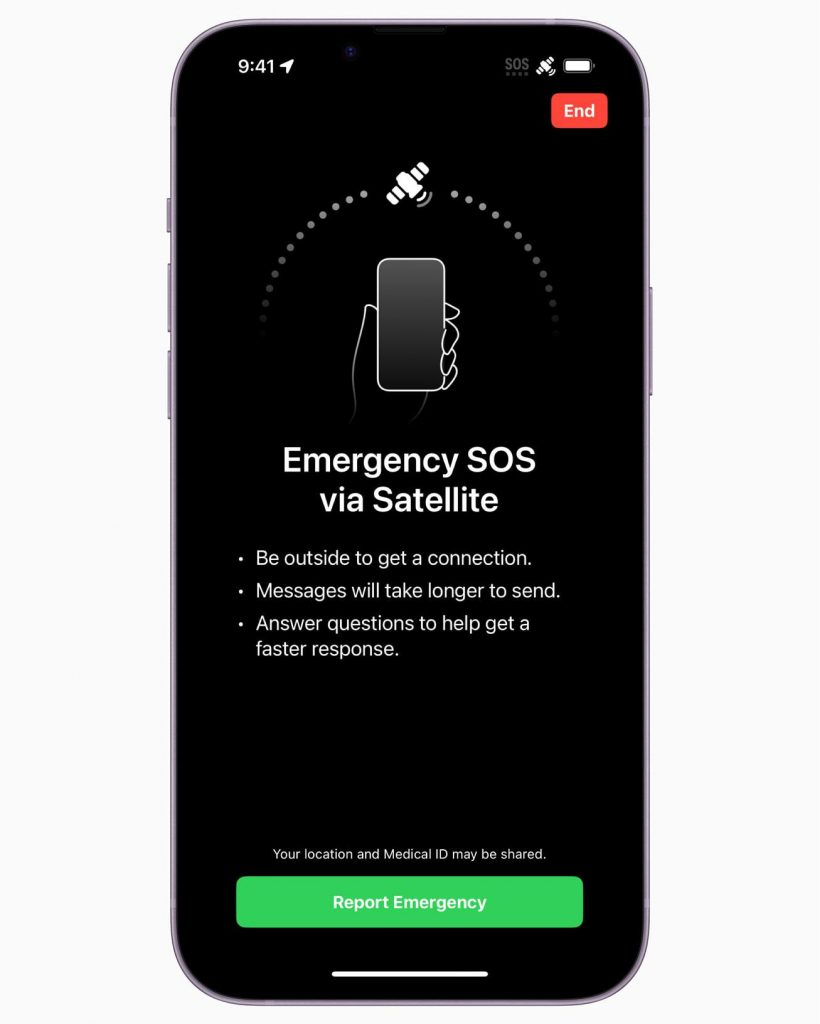 Emergency SOS via satellite is now available on Apple iPhone 14 devices. This ground breaking technology will make emergency services available to users who are in areas without cellular or WiFi access. It does this using a network of 24 low-earth orbit satellites that the iPhone can connect to. This allows you to send very short low-bandwidth emergency text messages to earth-based ground stations. And – should you run into trouble – it's us who are going to get you out. So please – stay safe.
---
Fly Baby Fly ..
Friday, December 16 2022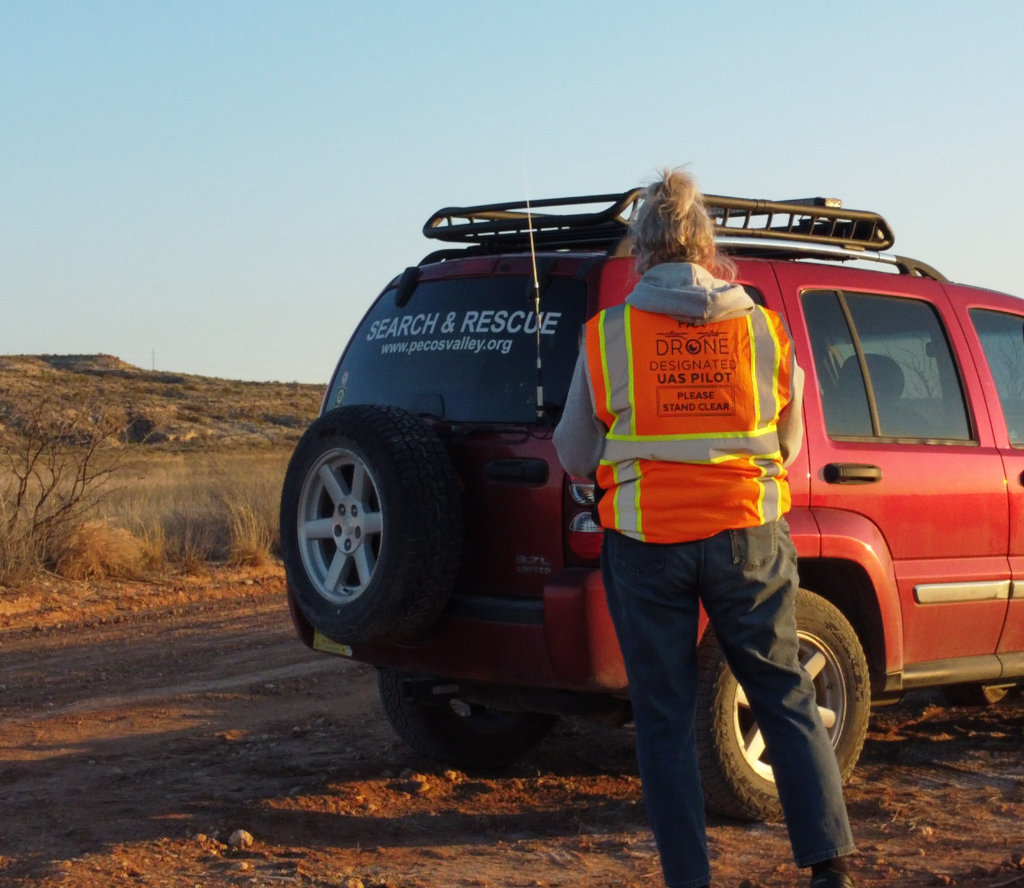 What good is a Christmas bonus if you can't spend it to buy some gear for Search & Rescue? A few team members threw some bucks into the hat so that we were able to purchase a new drone. We call her "Doris". Nothing fancy, but 4K video, Zoom, 3 Miles range, and a number of batteries for extended flight time. We're still saving money for a drone with FLIR, but even "Doris" will be helpful. Here's the first video …
---
Come .. join us.
Wednesday, December 14 2022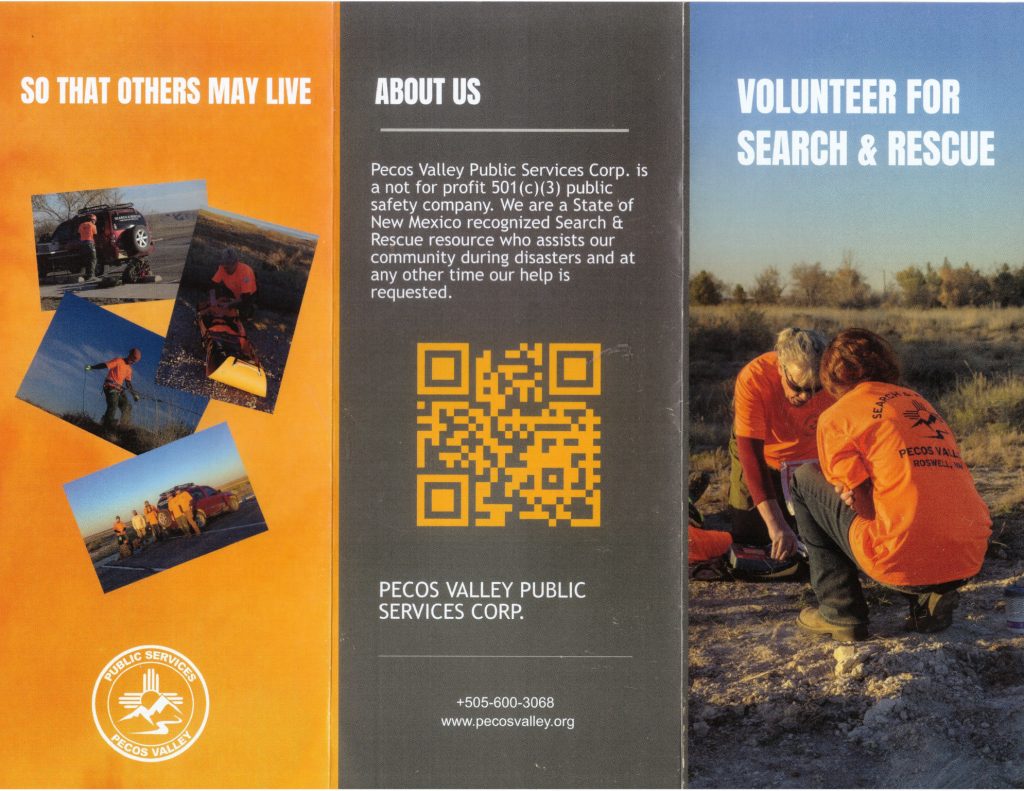 If you love the outdoors, if you are ready to help us to help others, if you accept the challenge – here's your chance. Consider joining a professional and mission-ready team to become a volunteer Search & Rescue first responder. Together we will experience adventure and fun – but also uncomfortable situations and hardships. Contact us for details.
---
Training Day
Sunday, December 11 2022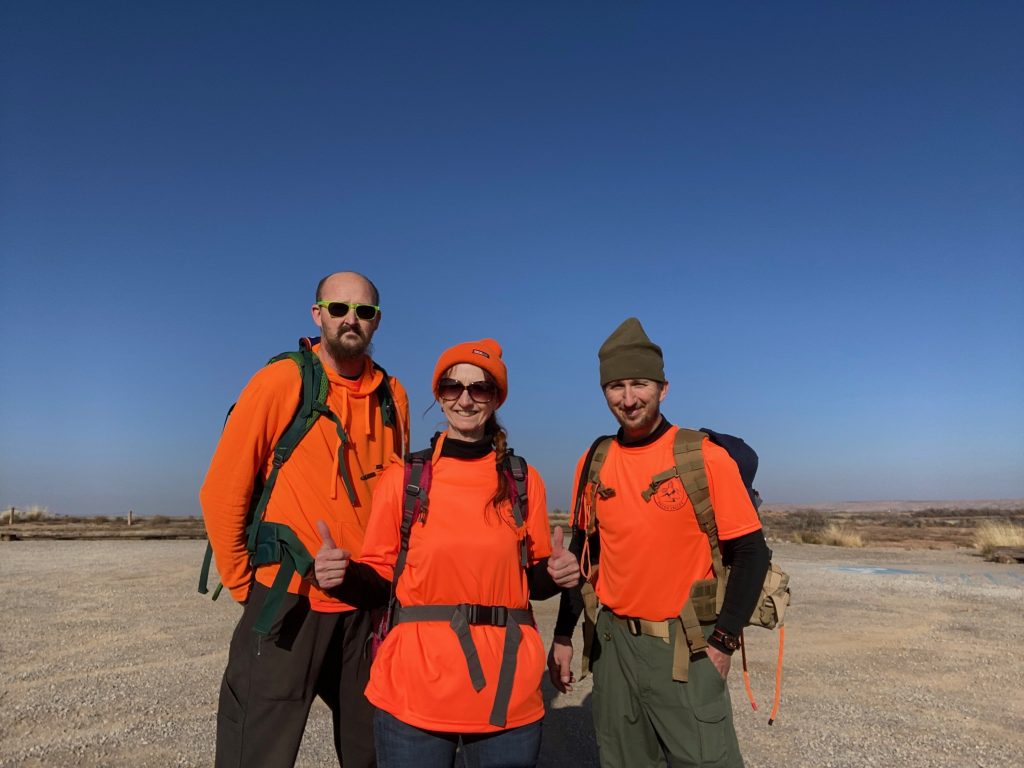 Training day again. The last for this year. But we ended it with a bang. All of the remaining unqualified team members passed their physical fitness exam as required by the State of New Mexico Standard operating Procedure (SOP-1) with 20 minutes to spare.
Congratulations. We are proud of you.
---
We now have a drone pilot
Wednesday, December 7 2022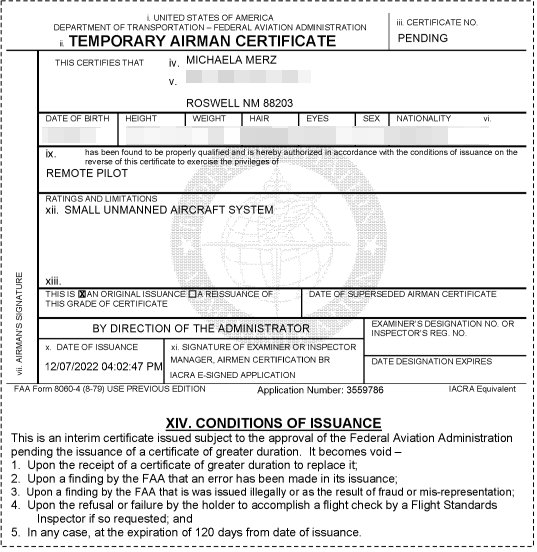 In order to fly a drone (other than just for fun) you need a drone pilot license. Michaela passed her FAA Part 107 exam with a score of 97% (couldn't make it 100% 🙂 and we now have a certified drone pilot in our team. This will improve our Search&Rescue activities a lot as we now have the capability to conduct searches from the air. We are now planning to buy a drone with the capabilities for day & night searches.

Want to help us with a donation? Thanks for contacting us.
---
Christmas Dinner
Tuesday, December 6 2022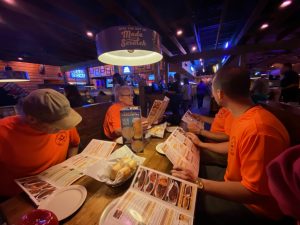 While our company is young, our team is strong and we enjoy each others company. We went to check out the new (to me) Texas Road House for our first Christmas dinner. We had stories to swap, jokes to tell and we discussed our plans for the future. Though not everybody could make it – we had a great time anyway.
---
Training Day – Again
Sunday, November 27 2022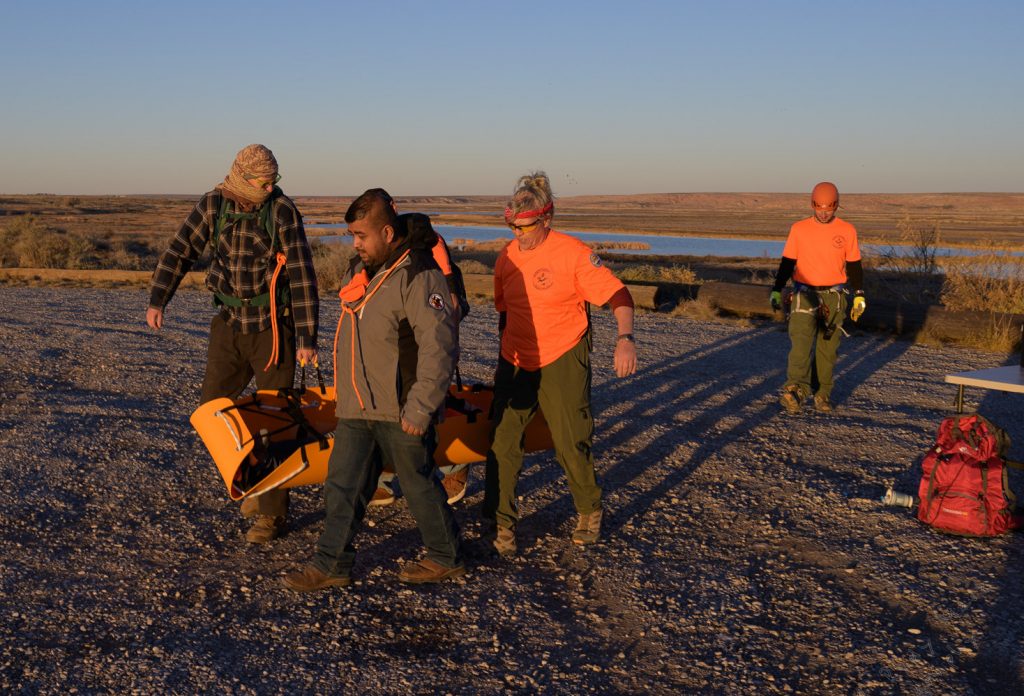 Yes – we do a lot of training. This time, we had the Roswell Community Disaster Relief Services joining us to see what we do. We trained knots, got acquainted with our new mobile litter system and, of course, went on the ropes a bit. Another fun and interesting event in the great outdoors.
---
Don't Call Us – We Find You
Friday, November 25 2022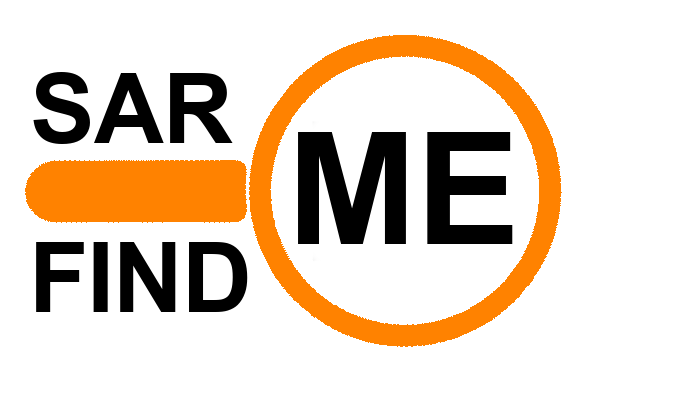 We are participating in SarFindMe. Just register before you head out into the wilderness and shouldn't you return in time, we've got your back. No trackers, no third-party cookies, no advertising and it's completely free to use. Always let someone know where you are and when you are planning to come back.
---
UTM Coordinates
Thursday, November 17 2022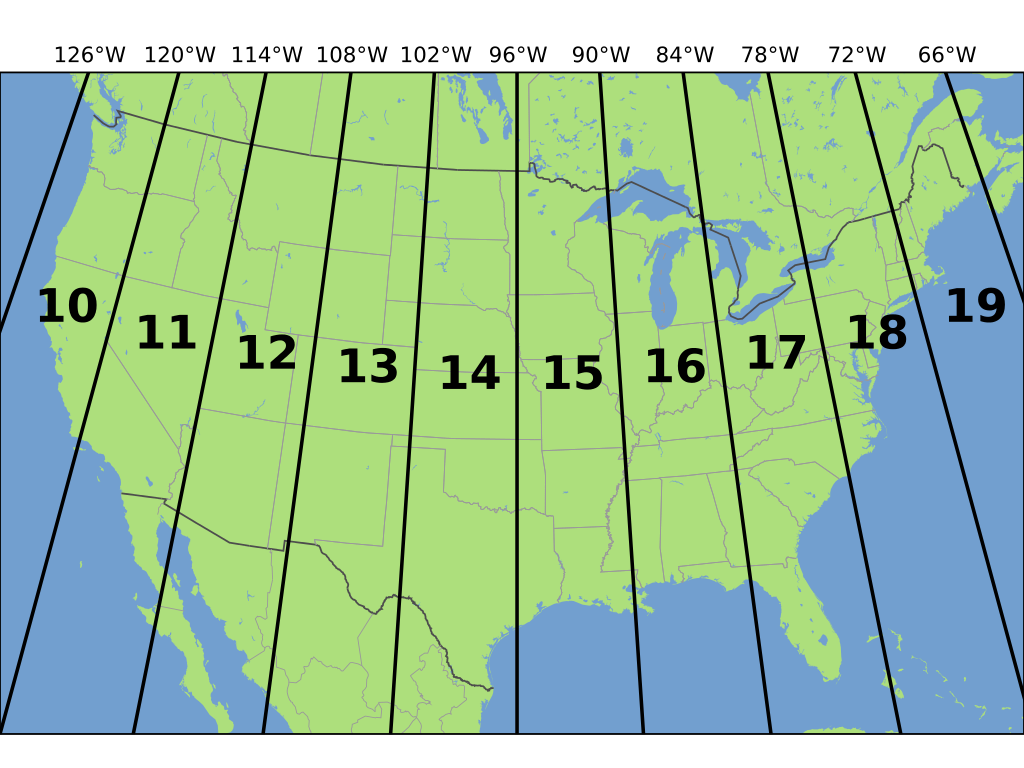 While GPS locations are pretty common everywhere, we SAR folks also use the UTM (Universal Transverse Mercator) coordinate system. Which has advantages and disadvantages. In any way – we need to know how to find or way in UTM and that's why it is important to refresh your knowledge once in a while. This is a good explainer ..
---
First Training
Sunday, November 13 2022
Pecos Valley Volunteers came together to start training in the Bitter Lake Wildlife Refuge. We did some basic rappelling (roping down) and introduced knots, the "rescue 8" and "tubes" to safely get down a drop. After all – that's where a victim may be found. Also on the training menu: CPR/AED – we used our AED device to simulate the workflow on a simulated heart attack patient.
---
Wilderness First Responder
Friday, November 11 2022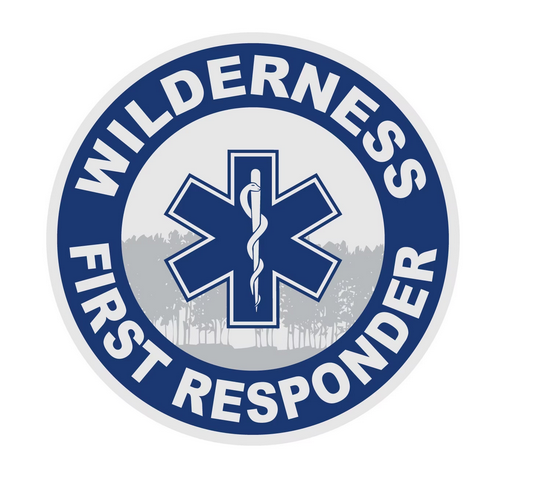 Michaela passed her "Wilderness First Responder" course. Congratulations. Now .. what is a WFR? In short: Among other things they are able to provide cardiopulmonary resuscitation, provide emergency medical care controlling hemorrhage, bandaging wounds, manually stabilizing injured extremities. They are able to distinguish medical problems that need an evacuation from minor issues that can be dealt with in the field.
---
Ropes: Know Your Knots
Wednesday, November 02 2022
Ropes are indispensable components of SAR missions. That's why we are required to have them in our packs. But what good are ropes if we don't know how to use them? Basic knowledge starts with the ability to tie knots. This video from "Dallas Fire-Rescue Training" gives you a great introduction into rope work.
---
Cheap Emergency Radio – A Great Tool
Thursday, October 20 2022
SAR team members have to carry a lot of gear. The New Mexico "Field Guide" requires us to carry food, clothing, water and a variety of tools like compass, ropes and more. Sometimes a product comes along that combines a number of things into one nice package and this "Emergency Radio" truly fits the bill.
---
Hug A Tree
Tuesday, October 08 2022
The HUG-A-TREE and SURVIVE Program was started in San Diego, California after a search for a nine-year old boy who died in the local mountains. A group of those searchers put together an assembly program for children on how not to get lost, how to stay comfortable if they do get lost, and how to be spotted and found.
Learn More About This Exciting Program .. .
---
The Thing With Magnetic North
Saturday, July 23 2022
When I was introduced to map and compass work, I learned about "true" and "magnetic" north. Say .. what? There are two "Norths" ? Actually .. there are as much as three "Norths" .
Here is what you need to know ..
---